The Coureurs des bois Challenge was taken up!
On September 22, 1,200 participants and a few hundred spectators gathered at the Lavigne Natural Park in Bourget to take up a big Challenge! The runners have managed one of the two courses offered and overcame between 30 and 45 obstacles. With shoes covered with mud a proud smile that they reminisce the most difficult obstacles and the muddy trails.
The elite runners once again impressed the spectators by crossing obstacles with agility and speed. The first runner to cross the finish line, Éric Beauchesne, completed the course and all the obstacles in less than 40 minutes. Prizes were awarded to the top 3 men and women runners: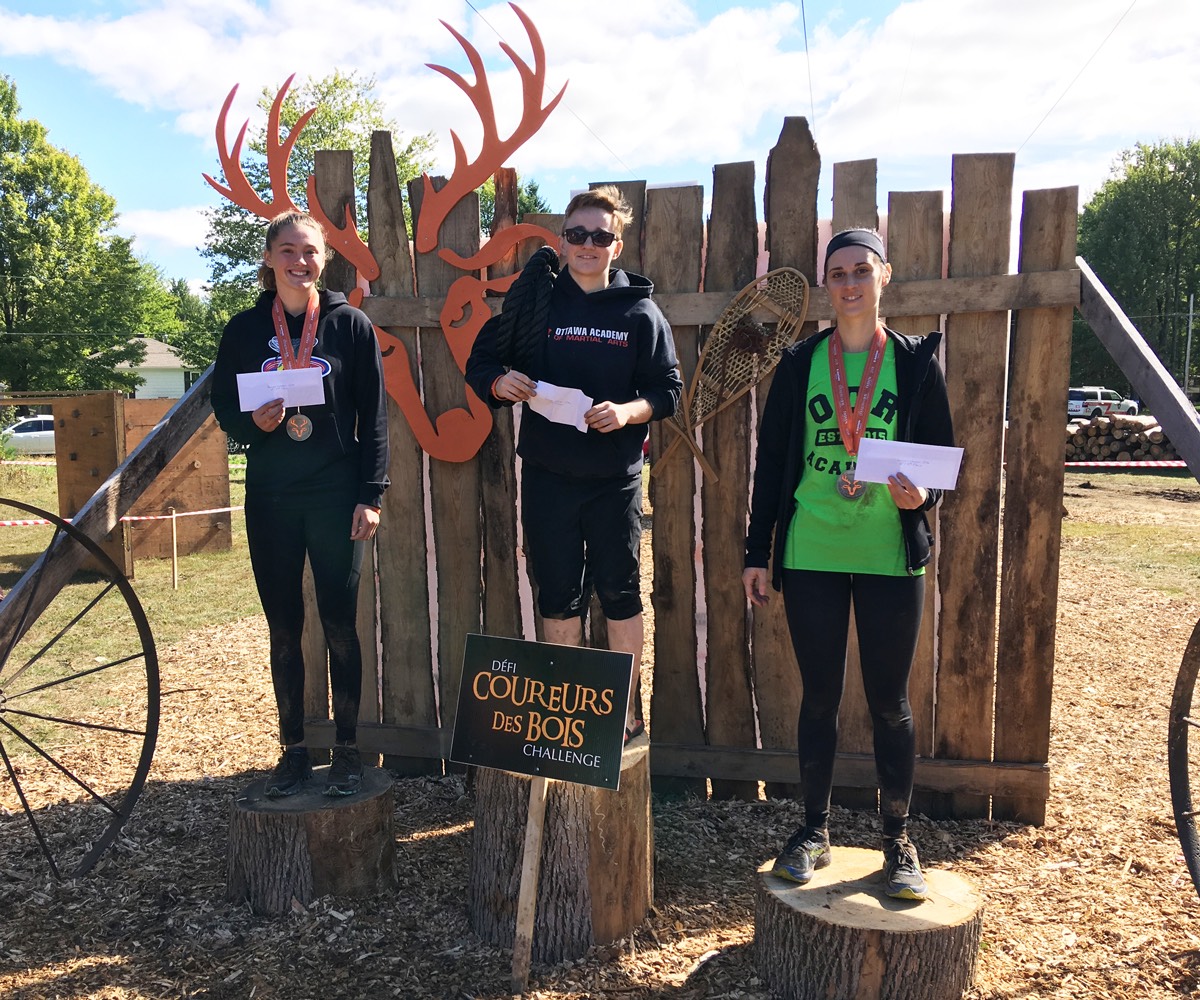 1st place, man
Éric Beauchesne
, 39.27 minutes
2nd place, man
Félix Michaud, 41.19 minutes
3rd place, man
Jonathan Provost, 41.44 minutes
1st place, man
Éric Beauchesne
, 39.27 minutes
2nd place, man
Félix Michaud, 41.19 minutes
3rd place, man
Jonathan Provost, 41.44 minutes
1st place, woman
Sabrina Camiré
, 1 heure 03 minutes
2nd place, woman
Avery Stirling, 1 heure 13 minutes
3rd place, woman
Caroline Laplante, 1 heure 18 minutes
Runners of all ages have both enjoyed the beautiful trails and an ideal temperature for this type of event. More than 140 volunteers were present to encourage them.
The dignitaries Mr. Francis Drouin, Member of Parliament for Glengarry Prescott-Russell, Mr. Guy Desjardins, Mayor of the City of Clarence-Rockland and Ms. Diane Choinière, Municipal Councilor, all stressed the importance of holding such an event in the community. They recognized the contribution of the volunteers involved in the organization of the Challenge.
The main partners, Ms. Josée Corbeil, owner of the Jean Coutu Pharmacy in Rockland and Mrs. Julie Kennedy, partner at the law firm Fasken, were present to award a prize and show their support for the project.
The President of the Coureurs des bois Challenge, Ms. Chantal Lalonde, emphasized the importance of offering an intergenerational activity that highlights one of the most beautiful natural park in the region. She noted the novelties of this edition and the patrimonial contribution with the presentations on the coureurs des bois and the natives. "The third edition of the Challenge, which offers new courses and even more obstacles, is a great success again this year," she explains. "The quality of the race as well as the animation on the main site, allows us to reconnect with our roots and encourages us to appreciate the natural places around us." She adds.
It was with great satisfaction that the participants wandered on the site after completing the challenge they had taken on. They proudly wore around their necks their well deserved medal. And special thanks to the volunteers who demonstrated the happiness of having contributed to a unique and unifying event. Another challenge completed for everyone!