The Challenge is proud to support the community!
The mission of the Coureurs des bois Challenge is to organize a unifying activity promoting a healthy and active lifestyle as well as cultural and natural heritage in order to raise funds to support organizations in the region.
The Coureurs des bois Challenge therefore supports projects that have the following objectives:
promote physical activity and healthy eating,
put forward the preservation of the environment, and or
discover the rich cultural and natural heritage of the region.
Before completing the donation request form, make sure that:
you are a non-profit organization,
your head office is in Prescott-Russell,
your activity serves the population of Prescott-Russell,
your activity reaches more than one person,
your activity is related to the objectives of the Coureurs des bois Challenge, and that
your activity will take place before April 30, 2023.
Organizations and programs not eligible for Coureurs des bois Challenge donations:
Programs relating to the regular activities of groups of a religious, political, school or institutional, hospital nature, such as school committees, pastoral councils, beneficiary committees, etc.
Submitting an online request, even if it meets all the criteria, does not guarantee that your organization will receive a donation. We wish we could help every organization, but it's just not possible.
The deadline to submit an application is April 28, 2022.
We would like to warmly thank our sponsors, all the participants and our many volunteers who made this possible!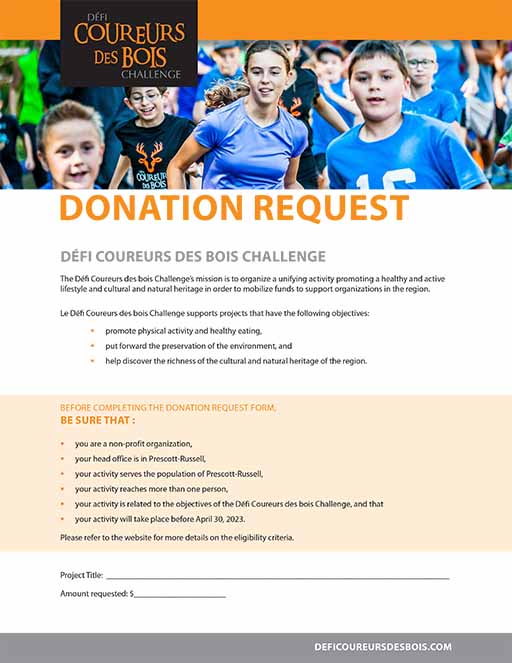 2023 recipient
FRANCOPHONE SCOUT GROUP 64TH CLARENCE-ROCKLAND, $1,645
2022 recipient
FRANCOPHONE SCOUT GROUP 64TH CLARENCE-ROCKLAND, $1,800
2021 recipient
GROUP AUTISM P.-R. SFOA – Physical Activities, $3,000
Alzheimer's Society of Cornwall and District – "In Home Activity and on Zoom", $3,150
FRANCOPHONE SCOUT GROUP 64TH CLARENCE-ROCKLAND, $1,800
2020 recipient
GROUP AUTISM P.-R. SFOA – Physical Activities, $3,000
Alzheimer's Society of Cornwall and District – "In Home Activity and on Zoom", $3,150
FRANCOPHONE SCOUT GROUP 64TH CLARENCE-ROCKLAND, $1,800
2019 recipient
LM LEADERSHIP AND TEAMBUILDING– Leadership and teambuilding camp, $1,000 CLARENCE TOWNSHIP SKATING CLUB – Harness renewal, $1,600 FRANCOPHONE SCOUT GROUP 64TH CLARENCE-ROCKLAND, $1,800 HAMMOND OPTIMIST CLUB – Baseball, Soccer & Frisbee for Hammond, $2,000 GROUPE AUTISME P.-R. de la SFOA – Move and move again!, $2,400 58th PIONEER SCOUTS – The Yukon Experience, $3,000 KAWABUNGA COMMUNITY SERVICE GROUP – Move in pleasure, $4,000 ALZHEIMER SOCIETY OF CORNWALL & DISTRICT – Day Program Summer Community Outing, $4,400 
2018 recipient
64th Clarence-Rockland Francophone Scout Group, $1,800
Regroupement autisme Prescott-Russell de la SFOA, Activities for people with autism, $3,000
2nd Rockland Guides and Pathfinders, Camping equipment revitalization, $2,000
Tucker House Renewal Center, Caring for self and the Planet, $1,500
Les Sitelles Gymnastics Club, Equipment 2018, $1,000
Clarence Creek Optimist Club, Sainte-Félicité Schools, Fitness and Health, $500