We are proud to be giving back to the community!
The Coureurs des bois Challenge is proud to support local organizations that are offering a project that promotes physical activity and healthy eating, puts forward the preservation of the environment, and helps discover the richness of the cultural and natural heritage of the region.
Before completing the donation request form, make sure that:
you are a non-profit organization,
your head office is in Prescott-Russell,
your activity serves the population of Prescott-Russell,
your activity reaches more than one person,
your activity is in line with the objectives of the Coureurs des bois Challenge, and
that your activity will take place before April 30, 2023.
Organizations and programs not eligible for donations from the Coureurs des bois Challenge:
Programs relating to the regular activities of religious, political, academic or institutional groups, hospital, school committees, pastoral councils, beneficiary committees, etc.
Submitting a donation request form, even if it meets all the criterias, does not guarantee that your organization will receive a donation. Although we would like to be able to help every organization, it just isn't possible.
The deadline to submit an application is April 28, 2022.
We would like to thank our sponsors, all of the participants and our many volunteers who made this possible!
2021 Recipients
REGROUPEMENT AUTISME P.-R. de la SFOA – Activités physiques, 3 000 $
Société d'Alzeimer de Cornwall et District –
« In Home Activity and on Zoom », 3 150 $
2019 Recipients
LM LEADERSHIP ET TEAMBUILDING – Camp de leadership et teambuilding, $1,000 CLUB DE PATINAGE DU CANTON DE CLARENCE – Renouvellement du harnais, $1,600 REGROUPEMENT SCOUT FRANCOPHONE 64E CLARENCE-ROCKLAND, $1,800 CLUB OPTIMISTE DE HAMMOND – Baseball, Soccer & Frisbee for Hammond, $2,000 REGROUPEMENT AUTISME P.-R. de la SFOA – Bouge et bouge encore!, $2,400 SCOUTS PIONNIERS DE LA 58e – L'expérience Yukon, $3,000 GROUPE DE SERVICES COMMUNAUTAIRES KAWABUNGA – Bouger dans le plaisir, $4,000 Alzheimer Society of Cornwall & District – Day Program Summer Community Outing, $4,400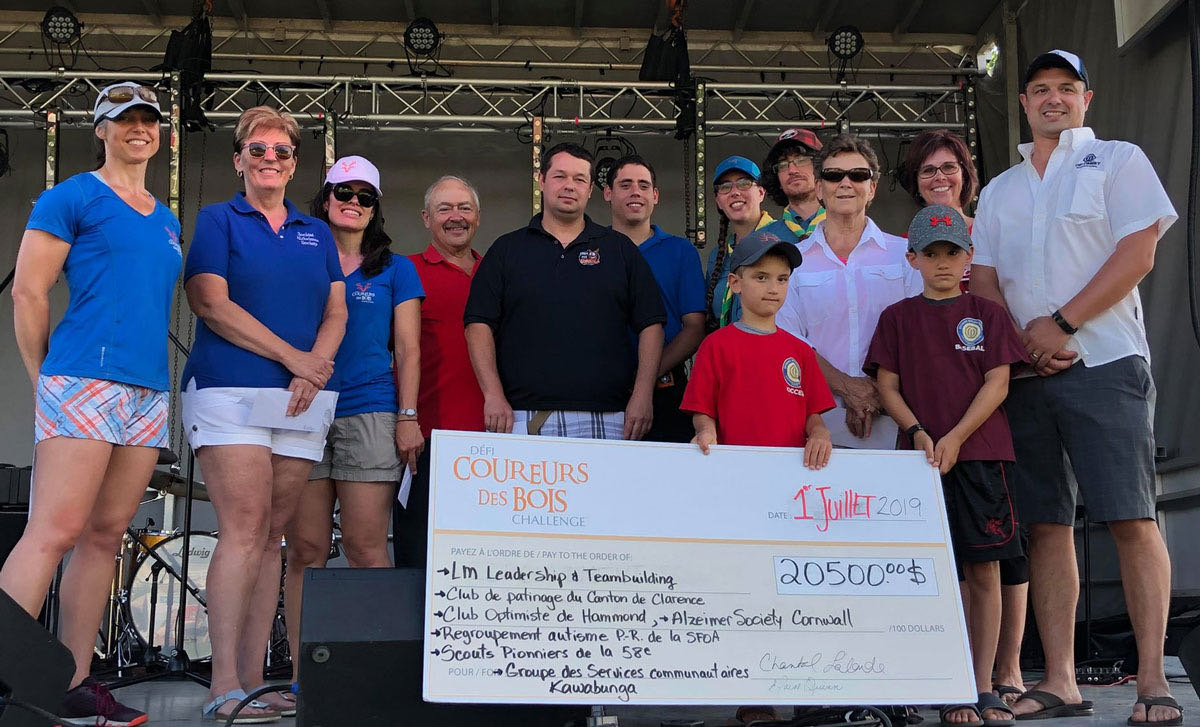 On the photo : Chantal Lalonde, president of the Coureurs des bois Challenge, Nicole Piché, Alzheimer Society of Cornwall & District, Chantal Chabot, Challenge organizing committee membe, Guy Desjardins, Clarence-Rockland City Mayor, René Laflèche and Justin Lafrance, Groupe de services communautaires Kawabunga, Jessica Séguin and Simon Cadieux, Scouts Pionniers de la 58e, Linda Meir, LM Leadership and Teambuilding, Nathalie Lévesque, Regroupement autisme Prescott-Russell and John Rozon, Club Optimiste de Hammond. In front : William and Anthony Rozon.
2018 Recipients
Regroupement scout francophone 64e Clarence-Rockland, $1,800 Regroupement autisme Prescott-Russell de la SFOA, De l'activité pour les personnes autistes, $3,000 2nd Rockland Guides and Pathfinders, Camping equipment revitalization, $2,000 Tucker House Renewal Centre, Caring for self and the Planet, $1,500 Club de gymnastique Les Sitelles, Équipement 2018, $1,000 Club Optimiste de Clarence Creek, Écoles Sainte-Félicité, Forme et santé, $500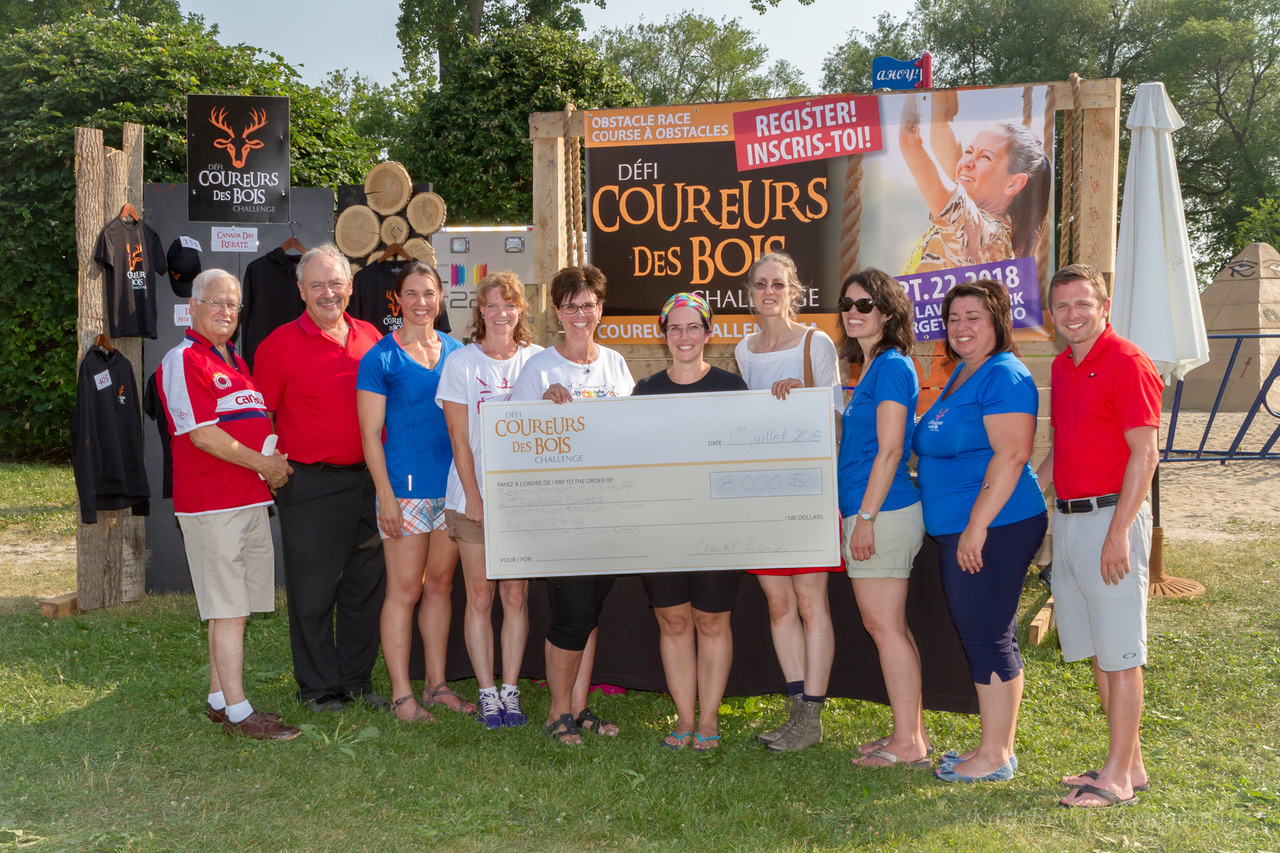 On the photo : Jean-Marc Lalonde, city councillor, Mayor Guy Desjardins, Chantal Lalonde, President of the Challenge, Nathalie Carter from the Club de gymnastique Les Sitelles, Nathalie Lévesque from the Regroupement autisme P-R, Emma Riddell from the 2nd Rockland Guides, Nathalie Mathieu from Maison Tucker, and organizing committee members, Chantal Chabot and Marie-Josée Bergeron and Francis Drouin, Glengarry-Prescott-Russell deputy. Credit : Karl Butler Photography.